Almando Multiplay Surround Decoder MK3
Connect any TV (Samsung, LG, Philips, Panasonic, Sony, etc.) to Bang & Olufsen Beolab speakers - 5.1 Surround
Watch this product and we will notify you once it is back in stock.
Almando Multiplay Surround Decoder MK3
Connect any TV (Samsung, LG, Philips, Panasonic, Sony, etc.) to Bang & Olufsen Beolab speakers - 5.1 Surround
Almandon, is designed to integrate a modern TV into a 5.1 surround sound installation with Bang & Olufsen speakers and sound system!

All TVs (such as Grundig®, LG®, Loewe®, Metz®, Panasonic®, Philips®, Samsung®, Sharp®, Sonos®, Sony®, TechniSat®, Toshiba®, etc.) can be connected
NOTE: New item not used
With the free Almando Play App available for Android and iOS, you can also listen directly to:

Spotify
Deezer
Tidal
Qobuz
SoundCloud
Napster
Audible
YouTube Music
Google Play Music
Plug & Play - Easy to install
Connects to the HDMI ARC- eARC input of your non-B&O TV - HDMI Cable included
You control the volume with your new TV remote control - No extra remote needed
Built-in Chromecast Audio - If you feel like casting some music to your Beolab
Digital inputs are available for Apple Airport Express, Sonos Port or Sonos Connect, Beosound Core
Of course there is a connection to a Beosystem (for example Beosound 9000, Beosound 3000 mm)

Connect a PC or MAC via USB, Almando Multiplay Surround Sound then acts as a PC sound card. & Nbsp;
You can also play music from a connected USB storage device.
Finally, there is also a stereo RCA analog signal input.
Optionally also with WISA module for wireless speakers, e.g. BeoLab 18 from B&O (Wireless Powerlink), select the option below!
Plug & Play
Application examples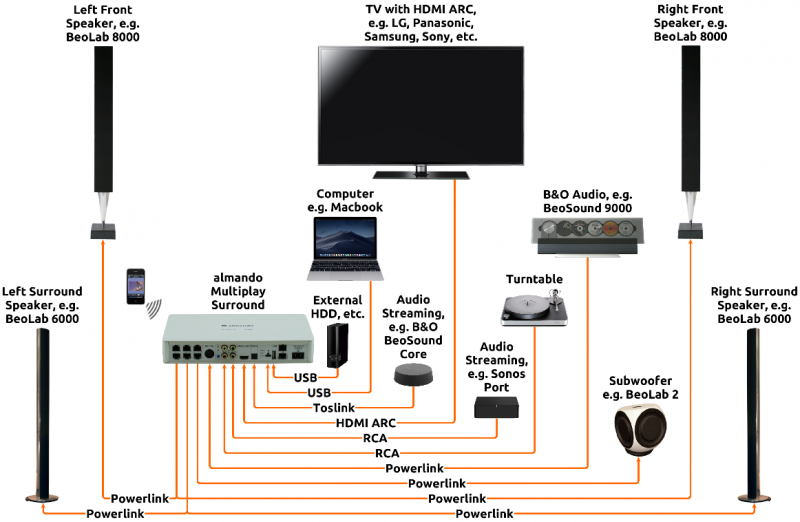 Installation of Almando Surround 5.1 MK2
Step 1: Connect the speakers
Almando Multilpay Surround Decoder has six RJ45 jacks for connection. Bang & Olufsen speakers in a full 5.1 surround sound installation.
Front speakers:
In this example, you will see newer B&O speakers with RJ45 Powerlink sockets,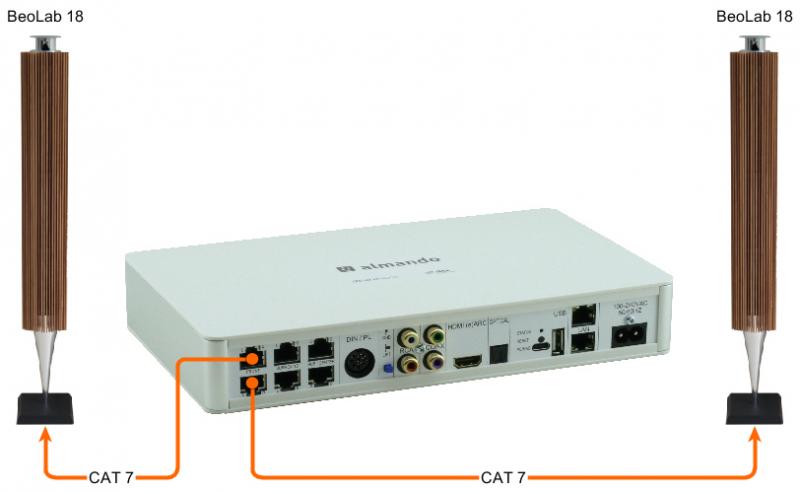 To connect older B&O speakers (eg BeoLab 5, BeoLab 8000, BeoLab 6000 etc.) you need to use RJ45 to Powerlink Converter
In this figure you can see the connection of BeoLab 8000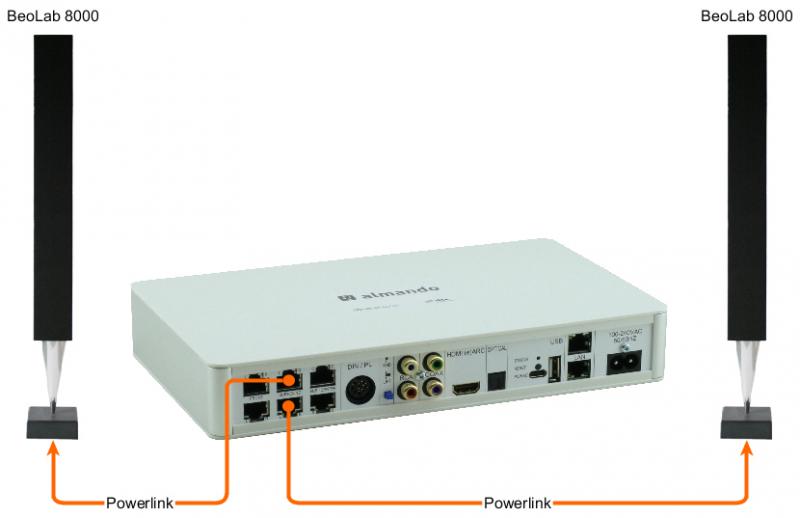 Connecting a Center Speaker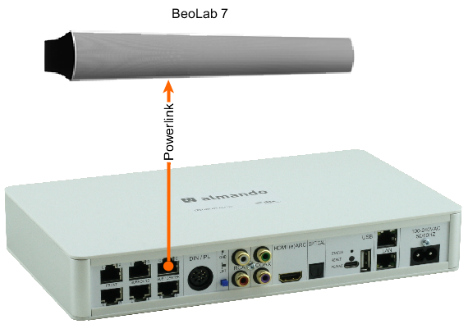 Connecting a Subwoofer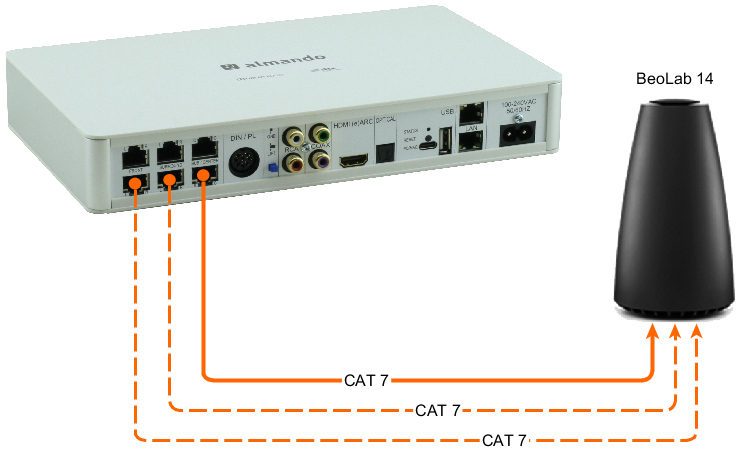 Or even Beolab 14
This means that you can realize different speaker settings from 2.0 stereo up to the full 5.1
Surround system installation variations: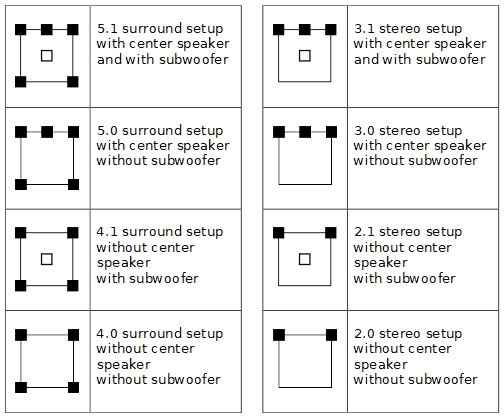 Step 2: Connect the sources

HDMI (s) ARC / CEC
Connect the TV with the supplied HDMI cable and enable the HDMI (e) ARC feature in the setup menu of your TV. See the instructions in the instruction manual of the TV.
POWERLINK (8pins DIN)
Here you can connect a Bang & Olufsen sound system (eg BeoSound 9000,
BeoSound Overture, etc.) with a classic Powerlink cable.
Also newer B&O systems (such as BeoSound Essence, BeoSound Moment, etc.) may be connected - but for this you need an adapter cable Powerlink to RJ45.
COAX
If possible, use only devices with a volume-controllable optical output, such as Sonos Port, etc.
OPTICAL
If possible, use only devices with a volume-controllable optical output, e.g. BeoSound Core, Sonos Connect, etc.
OPTICAL
The input can be paired with HDMI (s) ARC.
RCA
Connect all devices that have a stereo RCA output (adjustable by volume if possible), e.g. Sonos Connect, Sonos Port, Turntable, etc.
Connect Multiplay Surround to WiFi
Almando Multiplay Surround is WiFi certified and can be wirelessly connected to the network.
The unit also has an integrated switch with two RJ45 jacks and can optionally be connected to your network with a patch cable.
The second RJ45 jack can optionally be used to connect another device if needed (such as a TV, etc.
Connect Multiplay Surround to Power Socket

Step 3: Download the Alamndo App and & Connect the Sources
Almando Multiplay Surround can be individually configured with a smartphone app.
This allows you to set all parameters such as Lipsync, Downmix, Pro Logic Mode
You can adjust the volume and distance of the speakers, audio settings such as treble, bass and loudness, etc.
All this is even partial for each input individually.
This lets you set your surround sound system to your needs.




Continue reading about Almando Surround 5.1